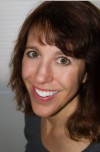 Schooling and Credentials - Julie is a graduate of the Colorado School of Healing Arts 700-hour massage therapy program. She received her certification in June 2002, and went on to obtain certification in Lymphatic Massage and PUSH Therapy
A little bit about Julie - Julie is a native to the beautiful state of Colorado. She grew up in Arvada, went to college at CSU and has been living in Littleton for the past 19 years. She loves hot yoga, hiking, and spending time with her friends and family.
In 1987 Julie herniated a disk in her lower back. It was the years of physical therapy, massage and chiropractic sessions that steered her in the direction of massage therapy. Julie really has a passion for her work and loves helping her clients improve their well-being.